Yegor Shulyk, web-administrator, programm coordinator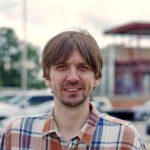 Yegor Shulyk worked for ICEA as an architecture and design program coordinator, he is also internet site support manager from 2008. Yegor is a graduated architect from Ukraine, he lives and works in the United States from 2013. Yegor focuses on expanding cultural and educational ties between the United States and Ukraine.
Currently, Yegor Shulyk, is the ICEA internet sites manager.
Yegor Shulyk located in Atlanta Georgia, his contact information:
Phone +1 (470) 435 0669; e-mail: [email protected]